Progress Monitoring: Progress monitoring is used to assess students' academic performance, to quantify a student rate of improvement or responsiveness to instruction, and to evaluate the effectiveness of instruction. Progress monitoring can be implemented with individual students or an entire class.
In progress monitoring, attention should focus on fidelity of implementation and selection of evidence-based tools, with consideration for cultural and linguistic responsiveness and recognition of student strengths.
A valid tool must accurately measure the underlying construct it is intended to measure. To be valid, progress monitoring tools must be appropriate for the grade level at which they are used and related to the instruction provided.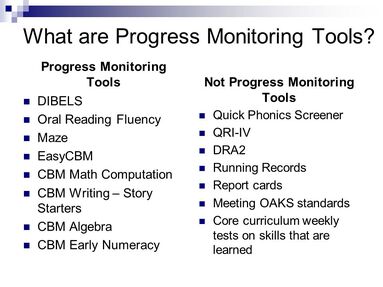 Successful schools develop schedules for student progress monitoring, ensure that all staff members know the schedule, and set the expectation that data will be collected and reviewed in accordance with the schedule. At a minimum, teachers should monitor progress at least monthly. In addition, and as a general rule, more frequent progress monitoring (e.g., weekly) is conducted for students with severe academic difficulties.
Example of a DIBELS progress monitoring tool.
Progress monitoring in practice (youtube)
Sources: